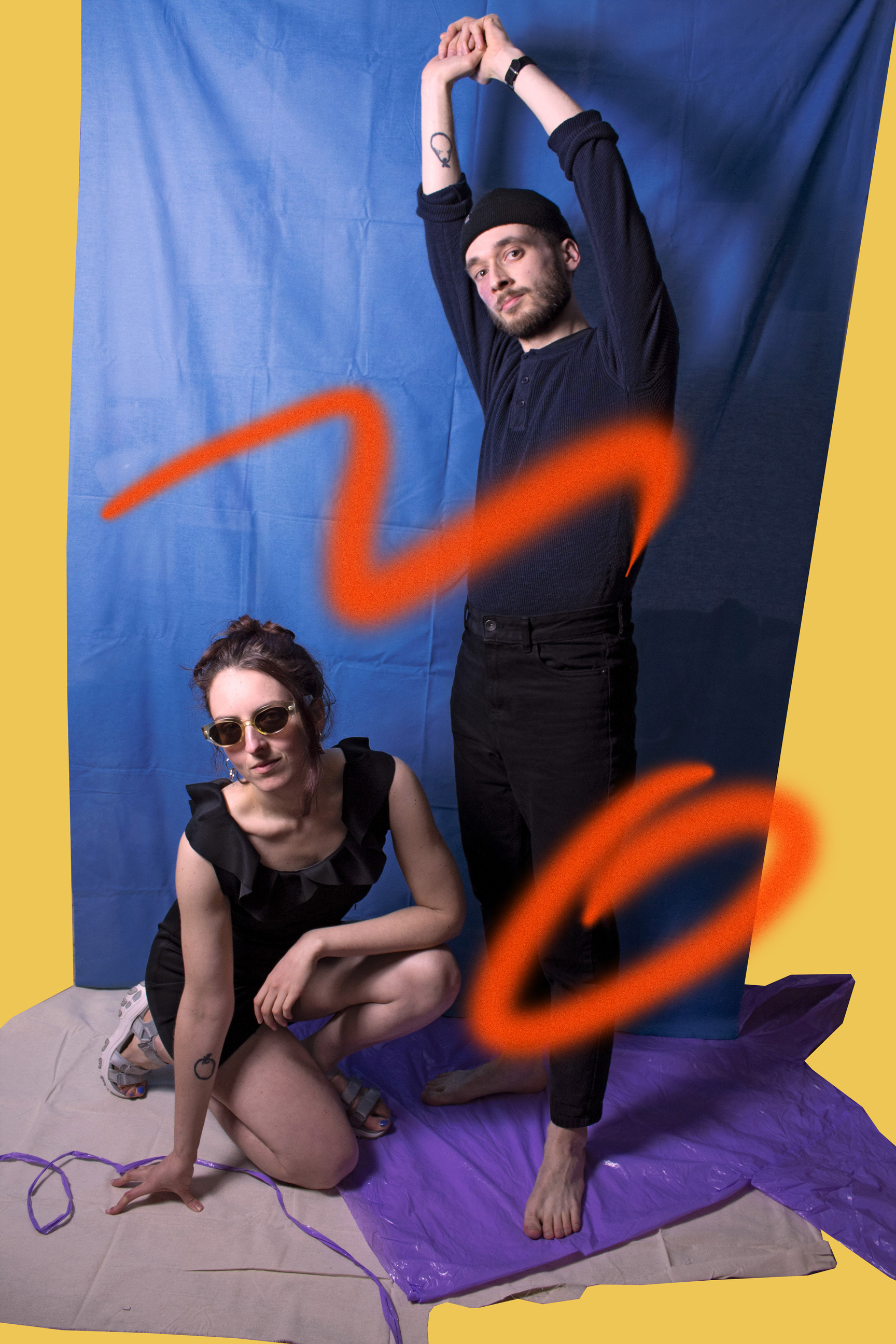 Akpatok was founded in 2013 by Dawid Adrjanczyk. From the beginning, as an open form, involving different musicians across various live performances, it has undertaken a wide range of sound and music activities. Finally, in 2016, it was established as a duo and from that moment Dawid Adrjanczyk and Nina Adrjanczyk have worked together, combining sound with video works and experimenting with new forms of expression, which extend into sound and performance art.
During the past six years the artists have performed at numerous locations and events in several European countries.
These include performances in Poland (National Museum in Warsaw, Wybrzeże Theatre in Gdańsk, at the Musica Privata V Festival in Łódź, at the Fala Dźwięku Festival in Warsaw, as well as in various galleries in Kraków, Wrocław, Poznań, Toruń Gdańsk, Cieszyn etc.), as well as performances at independent cultural venues, galleries and in collaboration with cultural institutions, such as Kultur im Bunker in Bremen, in Lipsk, Prague at Punctum-Krásovka, at the Alter Shapes Festival in Podsedice, Czech Republic, at the Nová Synagóga in Žilina, Slovakia, in Vienna within the framework of the Small Forms project, in Ternopil, Chernivtsi, Lviv, Ukraine, in Hungary, Belarus, Lithuania, Latvia and others.
The first Akpatok release, the album
Through the Spruce Gate into the Snowy Forest
(2014), consists of three long minimalistic compositions, which examine the problems of time, sound duration and stillness in a musical piece. These problematic aspects, derived directly from explorations of American minimalism, find here their individual artistic rendering, marked by inner tension, restless motion and expressive vibration of musical articulation.
A continuation of this approach can be seen in a series of compositions titled 
Two Winters, Two Springs
(2015). Built upon an exploration of musical emptiness and limiting ways of expression, the duo simultaneously emphasised various ways of influencing the listeners' state of mind through a physical acoustic sound. In these pieces, Dawid Adrjanczyk decided to reduce the number of instruments to acoustic ones, especially string and percussion  instruments, experimenting with their potential for decay and long string vibration. The compositions were presented widely in live performances connected with paratheatrical forms and spatial interactions, such as the performance at the National Museum in Warsaw in 2016 which included a group of guest performers.​​​​​​​
In 2018 the independent label Punctum Tapes published documentation of the live performance which had taken place in Prague at Punctum-Krásovka, where Akpatok had presented a series of new compositions titled
Micromovements
. The pieces, arranged for voice and electric organ, are characterized by a strong improvisational element. The musicians simultaneously move among conscious limitations, using their own technique consisting of micro movements, micro steps and micro gestures, creating a deliberate dialogue between the voice and the organ, seeking organic connections and exploring their microtonal potential.
In the series of works, with the title
Scan, Legitimise, Recognise
(2018), strongly reducing the melodic motion to expressive vibrating articulation, the musicians built a rigorous and ascetic yet strong  form, extensively making use of elements of improvisation and coincidence. ​​​​​​​
In
Scan, Legitimise, Recognise
, they pointed out the problem of migration, migrants, borders and The Others, issues troubling the modern world. The live performance was presented together with a video work by Nina Adrjanczyk, in which she interpreted the topics in an intuitive visual way.
The musical works of Akpatok inseparably connect with Dawid Adrjanczyk's involvement in the field of education. In collaboration with both cultural institutions and independent organizations, namely Kanepes Culture Centre in Riga, Laznia Centre for Contemporary Art in Gdańsk, POLIN Museum of the History of Polish Jews in Warsaw, Rozdroża/Crossroads Center for the Intercultural Artistic Initiatives in Lublin, Szara Gallery in Cieszyn, Gdynia City Museum and The Artist Colony Foundation in Gdańsk, he has organized and run experimental music workshops focused on work with uncommon materials, sound mapping, free improvisation and working with self-made graphic scores.
Nina Adrjanczyk, as a visual artist, predominantly examines the interaction between voice, sound and image. She creates her works using 3D animation, sound art forms and elements of free improvisation, with a strong presence of imperfection and destruction. She designs and predicts errors and coincidences, which help her respond in a more precise way to the problems of modern reality.